Club Sponsors

Macquarie University are proudly sponsored for the second year running by Ryde-Eastwood Leagues Club (117 Ryedale Rd, West Ryde, 2114. (02) 9807-2444) and Eastwood Hotel. After a day of football the Macquarie players return to Eastwood Hotel for a few quite drinks.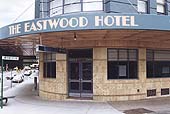 EASTWOOD HOTEL, 115 Rowe Street, Eastwood.
Bottle Shop hours: Mon - Thurs 10am to 10pm; Fri - Sat 10am to 12am; Sun 10am to 10pm.
The continued support of these sponsors is greatly appreciated by Macquarie University Rugby League.

Club Merchandise
Macquarie University polo shirts are available on request for .






This page is under construction !!!!