Tree Frog News

Social Calender

13 May 2000
Rosehill Races.
Meet at Eastwood Hotel 11.00am

10-12 June 2000 - June Long Weekend
Parkes Races
The June Long Weekend sees the country town of Parkes in NSW's North-West host their annual race carnival. For those interested Macquarie Uni is planning a trip departing Friday evening and returning Monday/Tuesday for this auspicious occasion. Click here to register your interest.

1 July 2000
Golf Day
Venue to be arranged


CONGRATULATIONS DAVE MERRICK ON MAKING THE CITY FIRSTS!

Dave Merrick has been the first Macquarie player in recent years to attain representative honours. Dave after a fantastic start to the season has been chosen in the City firsts side to play Country on the 10 June at Leichhardt Oval, and then again at the Australian University Eastern Games in Albury on the 5/6 of July. From these two games a NSW Residents team will be selected to play Melbourne City at McCredie Park, Guilford on 28 July. The club wishes Dave all the best in the coming games.
For details on game times please contact Greg Cumberland
Selection Details
CITY
Paul Gallen, Matt Taloni (ACU); Brett Biles, Calleb Sky, Kannon Irajah (Cumberland); Dave Merrick (Macquarie Uni); Adam Talab, Dave Hancock, Brett Walker, Mark Mains (UWS Nepean); Andre Samson, Paul Sinclair, Rohan Sawyer, Matt Ferris, Ayman Mosleh (Sydney Uni); Dave Wickman (State Rail); Tony Phillips (UTS).
COUNTRY
William Mccrone (Temora); Joel Reid (West Wyalong); Paul Farah (Bankstown); Matthew Townsend (Yass); Jason O'Mara (Yass); Mark Cave (Goulburn); Troy Richards (Canberra); Matthew Duck (Canberra; Peter Beeton (Yass) (Canberra University) ; Reginald Spencer (Inverell); Robert Spencer (Inverell); Michael Millgate (Murrurundi); Trent Bonar (Newcastle); David Kearsey (Inverell) (Newcastle University); Robert McMahon (Forbes); Brett Biddle (Glen Innes); Scott Jacklin (Wingham) (Charles Sturt University Bathurst).
This months best picture - Who's your Froggy?.
"Legs pumping, a treefrog player penetrates some tight defence."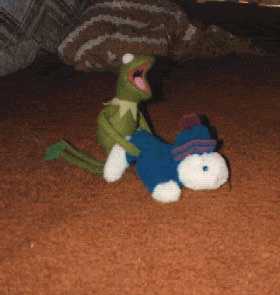 Picture courtesy of PK.